Slide 1
Get The Best GPS Tracker For Cars Today
The Autosurveil GPS App has become the App of choice in Car tracking for Businesses and Individuals at large. More than 1,000 happy users choose us!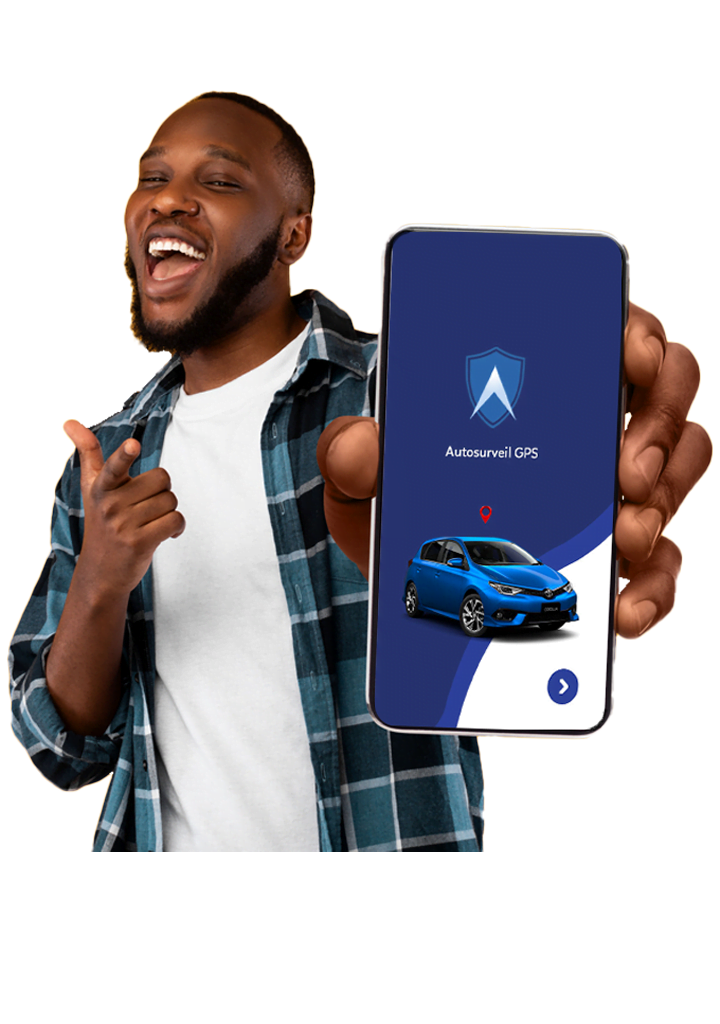 Slide 2
Track your Assets In Real-time with Our GPS Devices & Platform
Get accurate live car locations with zero margin of error. Our robust AGPS trackers gives you 99% uptime and connectivity. Download our user-friendly monitoring app on your smartphone or on the web.
Make the wise decision and protect your asset today.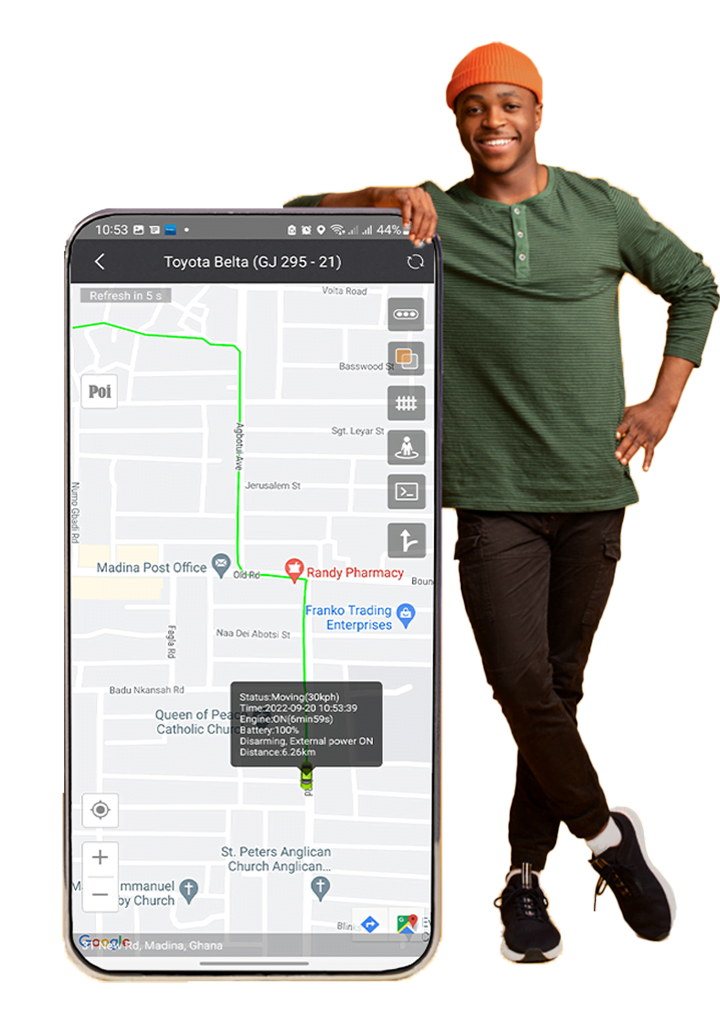 Slide 3
Fleet Management
Our platform provides in depth reporting on vehicle maintenance, fuel consumption, trip analysis and more for your fleet's management. Monitor vehicles in your fleet with custom packages based on your operational requirements with ease, from the Autosurveil GPS Monitoring Platform.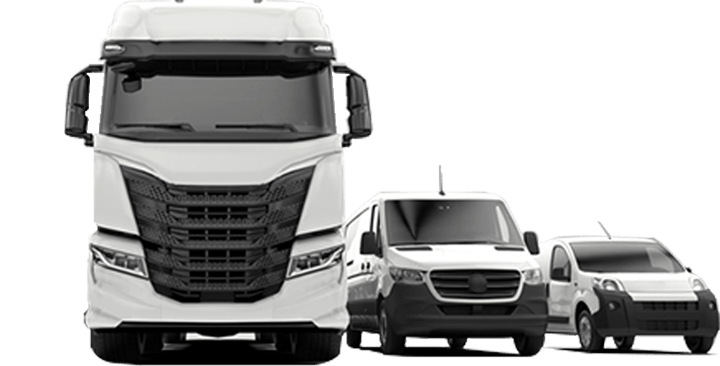 Your Vehicle Security, Our Priority
Ghana's No1 Vehicle Tracking & Monitoring Platform
You deserve the best. Our vehicle GPS tracking device ensures optimum security and safety of your Cars, Motorcycles, Trucks, etc. No monthly charges. Enjoy limitless control with our monitoring applications and track your vehicles anytime, anywhere.
Book an Installation Appointment Today
Cross-Platform App
Our GPS tracking application is available on both web and mobile platforms with an intuitive easy-to-use user interface. You can conveniently monitor your vehicle with ease, no matter the smart device you use.
Accurate Vehicle Positioning
Our GPS tracking devices are equipped with Assisted Global Positioning System (AGPS) sensor which ensures Accurate positioning of your vehicles on the map with zero margin of error.
Excellent Support
Partnering with us means you're family. Our customer service personnel are constantly accessible to guarantee that your demands are satisfied on a continuous basis.
It is easier than you think!
Track your Vehicle with a
GPS Tracker from Autosurveil GPS in 3 Easy Steps
1. Choose what best suits your vehicle security
Select the best package based on your operational requirements from our pricing page. Vehicle security starts with you. Make the right choice today!
2. Pick a Date, Time & Location for Installation
Schedule an installation with us by filling the booking from. Our service team will contact you to confirm your booking and carry out the gps car tracker installation in due course.
3. Sit Back, Relax and Track your Vehicle Anytime, Anywhere
With the Best GPS Tracker for cars installed, you will have peace of mind. Your vehicle security is our priority. Monitor your vehicle on your smartphone or laptop from the Autosurveil GPS app.
Motorbike Package
Features
(*No additional charges)
¢800
RealtimeTracking
Remote Engine-Off
Geo-Fencing
Route History
ACC Ignition
Speeding Alert
Cut wire Alert
Lite Package
Lite Features
(*Free 1X/year Vehicle Diagnostic Scan)
¢899
RealtimeTracking
Remote Engine-Off
Geo-Fencing
Route History
ACC Ignition
Speeding Alert
Cut wire Alert
Trip & vehicle maintenance Report
Business Package
Business Features
(*Free 1X/year Vehicle Diagnostic Scan)
¢999
ALL FEATURES OF LITE PACKAGE +
Emergency SOS
Backup Battery
AGPS Support
Door Open Alert
Forcible Entry Alert
Dedicated Support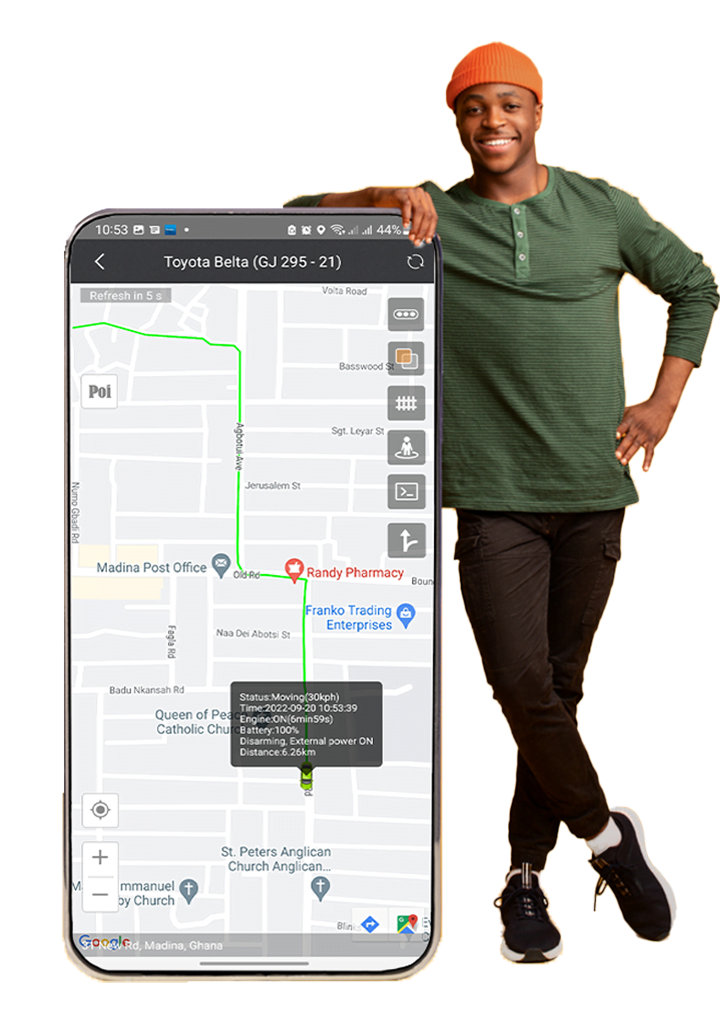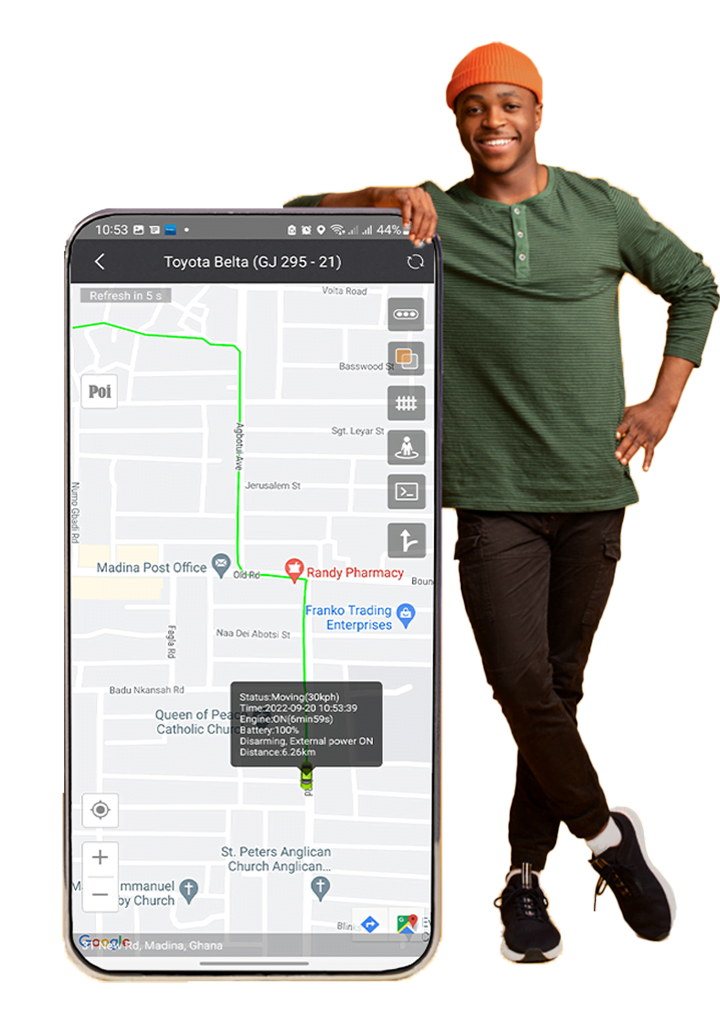 Amazing Features
Real-time Tracking

You can track your vehicle from your smartphone or laptop using the Autosurveil GPS monitoring App. With the best GPS tracker for cars, trucks, vans, and motorcycles installed, you can monitor your assets from any place and instantly view their locations.
Engine Shutdown

The Remote Engine Shutdown feature offers a convenient and secure solution for vehicle owners seeking to protect their assets. This feature allows you to remotely turn off the engine of your vehicle, providing an effective deterrent against theft or suspicious activity. It is an ideal option for individuals who require added security when leaving their vehicles in high-risk areas or for those who want peace of mind while away from their vehicle.

Additionally, the Remote Engine Shutdown feature offers a non-physical alternative to immobilizers for those seeking to prevent theft. This feature can be easily accessed and activated from anywhere in the world through our mobile and web applications.
Geo-Fence

The geofencing feature is a powerful and flexible way to monitor your vehicles and drivers. You can create a boundary around your vehicle that will trigger an alert on your smartphone when the vehicle leaves the defined boundary. Geofencing alerts allow you to track activity in a more passive manner rather than constantly watching the real-time map. With all this and so much more, why wouldn't you want to get the best GPS tracker for cars in Ghana?
Anti-Theft Alerts

Are you concerned about the security of your vehicle? We understand the importance of protecting your assets and have developed a solution to help alleviate those worries. Our GPS car tracker offers advanced anti-theft capabilities, providing you with real-time notifications in the event of any suspicious activity on your vehicle. Whether it's a thief attempting to open the doors, tamper with the ignition, or even tow your car, you will be immediately alerted, allowing you to take appropriate action.

Situational awareness is crucial in ensuring the safety of your vehicle, and our GPS car tracker provides you with the information you need to stay informed. With its advanced capabilities, you can rest assured that you will receive anti-theft alerts for your vehicle, providing you with the peace of mind that comes with knowing that your assets are protected.

Furthermore, our GPS car tracker is designed with a user-friendly interface that allows you to monitor your vehicle's location and status in real-time, from anywhere. It also provides you with historical data, such as speed and location history, which can be useful in case of any unfortunate events.

With our GPS car tracker installed, you can have the confidence that your vehicle is protected and that you'll be the first one to know if anything happens to it.
Vehicle Recovery

Our promise is to deliver the best GPS car tracker and we mean it. Should your vehicle be stolen-in the worst case scenario, we work in tandem with the police to retrieve it. Privacy guaranteed. We also have a 24/7 emergency response team that is on standby to help you in case of distress. This is why we are one of the most reliable providers of GPS tracking systems in Ghana. Book an appointment and install a GPS car tracker now.
Route History

Our Route History Review feature provides you with access to detailed information regarding previous trips, including trip states such as driving and parking times, as well as specific locations recorded in our system. Utilising this data, you can accurately measure mileage, fuel consumption, and other trip-specific details. Additionally, a comprehensive trip report can be generated on-demand from the travel history and exported for further analysis.
Fleet Data Report

Our platform offers comprehensive reporting capabilities for efficient fleet management, including detailed analysis of vehicle maintenance, fuel consumption, trip data, and more. The report section also provides real-time information on operational statistics, mileage, and alert history, allowing you to stay informed and make data-driven decisions. The platform's user interface is intuitive and customizable, with packages tailored to meet the specific operational requirements of your fleet. Our solution is designed to streamline fleet management, helping you to effectively monitor your vehicles and reduce associated costs.
Water Resistant

Our GPS car tracker is engineered to the highest standards of durability and performance, featuring an IP65 waterproof rating. This represents a premium level of protection against water and dust ingress, ensuring that the device can withstand even the most challenging conditions on land or in water. This makes it an ideal solution for use in extreme working environments, where reliability and ruggedness are essential.

The device is built with a solid housing that effectively protects the internal electronic components from damage, contributing to its exceptional durability. This level of protection is superior to that offered by other models on the market, ensuring that it can withstand rugged use and perform reliably over an extended period of time. Furthermore, the device's tough exterior also provides added protection against physical damage, such as impact or vibration, further extending its lifespan.
Overspeeding Alert

Our GPS car tracking system is designed to provide real-time monitoring of your vehicle's speed, and to alert you when it exceeds a predetermined limit. The maximum speed limit in our system is calibrated to 80 kilometers per hour, and once your vehicle moves above this configured threshold, an overspeeding alert is triggered, notifying you immediately. This feature is an important tool for ensuring the safety of your vehicle and its occupants, and can also serve as a reminder to the driver to comply with local speed regulations.

It is important to note that the overspeeding alert function is only activated when your vehicle moves above the set speed limit, and it can be easily customized to reflect the specific requirements of your fleet. This means that you can adjust the speed limit to comply with local regulations, or to reflect the specific needs of your business. Additionally, the overspeeding alert can be turned off or on as required, making it a flexible and customizable feature.
Cut Wire Alert

All our hardwired GPS car trackers notify you if the wiring connection is tampered with. This means that if someone tries to remove the tracker, you will be immediately notified. GPS trackers are a great way to protect your car-however, you should still invest in anti-theft devices like steering wheel locks and alarm systems. These devices will make it harder for thieves to steal your vehicle without being noticed.
We Offer The Best GPS Tracker for Cars in Ghana
Barry Avemegah
Chief Executive Officer
With over 7 years of experience in Software Engineering and business, Barry leads the team to excellence.
Sasu Anani
Head of Technical Support
Sasu coordinates installations with the field team and oversees GPS tracker configuration and after-sales support.
Leslie Wahiermeh
Chief Marketing Officer
Leslie skillfully implements and oversees all customer support, marketing and communication strategies for Autosurveil GPS.
Richard Kovor
Head of Installation
Through diligence and skill development, Richard Kovor makes sure the installation team completes every task properly.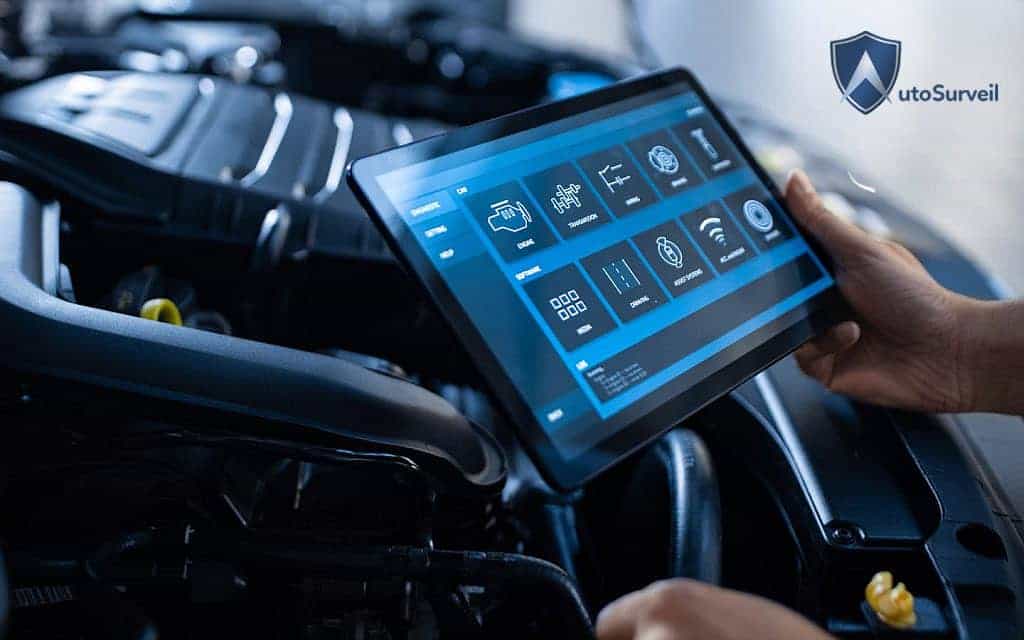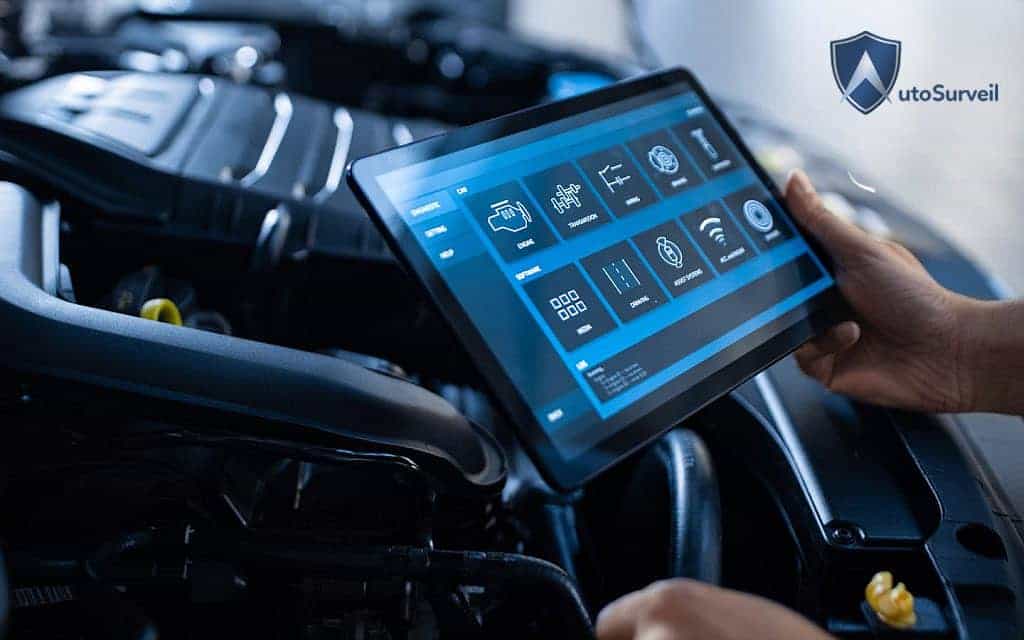 Auto Diagnostic Scan
Fault-free car performance is vital to driving safety and efficiency. Book a free diagnostic scan this Month!
Engine Diagnostics
Transmission System Diagnosis
Steering System Diagnosis
Brake Assist System Diagnosis
Chassis System Diagnosis
AC System Diagnosis
EPB System Diagnosis
TPMS System Diagnosis